Matt Maki writes, teaches, edits, and freedom-fights in tumultuous Kyiv, Ukraine. He has served on the editorial staff of Passages North, on the poetry staff and as fiction editor for Black Warrior Review, and is currently Greatest Lakes Review's editor-in-chief and Flywheel Magazine's fiction editor. His work appears in literary journals and anthologies, including Dunes Review, The Way North (Wayne State University Press), and Tuscaloosa Runs This (Broken Futon Press). He was named a finalist in MAR's 2014 Fineline competition for his piece "How to Use a Map," which appears in issue 35.1.
Quick! Summarize your story/poem/essay in 10 words or fewer.
A series of unexpected uses for a map.
What can you share about this piece prior to its MAR publication?
This is my favorite piece. The late poet Craig Arnold attended my first public reading of it and generously shared his analysis of it during the Q&A, which made me particularly guard and care for it over the years. The original version was, in fact, ten pages long. Each time I performed it, I recognized areas of weakness that would be hacked off before the next performance. This final version combines the original last two sections. I cut this from the first paragraph/stanza immediately before submitting it to MAR; consider it a previously unreleased B-side.
"Gently lay the map on the table, face up, if you know which side the face is. There aren't the typical eyes and nose to indicate the map's face, nor a mouth for it to correct you. If one side of the map is completely blank, you are lucky since this is the ass and it is easy to tell the ass from the face. If both sides of the map are blank, you have been taken; it is a double-assed sheet of paper, not a map. The face is the side that is one complete picture. Do not spend time examining the non-face side of the map to determine if it is some other part of its anatomy as it is bashful, much like you were when you undressed in front of your first lover, and the map is liable to perspire some panic if you commence such an examination, which might be an unwelcome thing."
What was your reaction upon receiving your MAR acceptance?
I gasped and told my non-writer boyfriend, who looked at me blankly, so I posted my news to Facebook where I got the ego-stroking I sought.
What do you consider your biggest writing-related success?
Sincerely, this publication. I've been admiring MAR for the past twenty years, particularly the between-genre works it features as part of the Fineline competition and otherwise. I was deeply honored to be selected as a finalist for this contest and included in the special feature on cross-genre writing for its 35th anniversary issue. If I weren't included in this, I'd still be eagerly reading and loving all these pieces as a highlight of my year, so you can imagine how I feel about being included among them.
Your biggest writing-related regret?
Not pushing myself enough to get my work published despite having a whole toolbox of routine, organization, and other techniques that I have shared with my students and has been effective in bringing them success. Do as I say, not as I do.
Tell us one strange thing about yourself that involves writing.
I'm immune to writer's block. I usually have more to say than I have time in a day, but even if I hit lean creative times, I have a daily practice based on Julia Cameron's book The Artist's Way that gets me unstuck. I have moderated workshops utilizing this book, and it has always been inspiring to see participants unleash their inner writers/painters/photographers/whatever.
Do you have another favorite piece of writing in this MAR issue? If so, name it and tell us why.
I admire Rebecca Foust's "Dynamic Response of Multi-Layered Soil Media in the Frequency Domain" (page 137) for its ability to carry narrative across fragmentation and collage.
Can you show us a photo of you holding your MAR contributor's copy?
Yes! Here I am not far from my home at Maidan Nezhaleznosti, the site of the three-month long protest in Kyiv that eventually earned freedom from a corrupt, Putin-controlled puppet government, but which triggered Russia's war on Ukraine for the past year. This place translates to "Independence Square" and is truly the heart of Ukraine.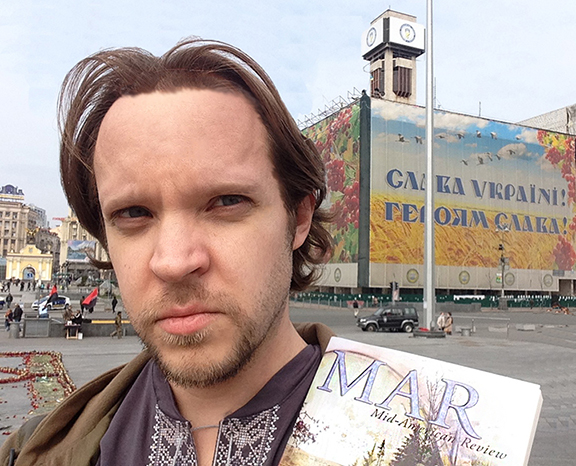 Thanks for the interview, Matt!
Laura Maylene Walter, Fiction Editor