Cherie Hunter Day's work has appeared in literary journals such as Moon City Review, Quarter After Eight, SmokeLong Quarterly, and Wigleaf. Her 2014 Fineline entry, "Fisher Scientific," appears in 35.1 and marks the fifth time she was a finalist and Editors' Choice in MAR's Fineline Competition. She lives in Cupertino, California.
Quick! Summarize your piece in 10 words or fewer. Extra points if your answer rhymes.
It describes falling down stairs after Histology lab.
What can you share about this piece prior to its MAR publication?
I wrote this piece in a single sitting and sent it to a prose poem contest that same day, without the usual "drawer time." In hindsight it needed that time for me to see its weaknesses. Four months later I rewrote the last line and submitted it to the Fineline.
What was your reaction upon receiving your MAR acceptance?
I've been a Fineline finalist five times [2004, 2005, 2007, 2009, and 2014]. I'm always happy to be published in MAR. Someday I just might win this thing!
You're at a family reunion and some long-lost relative asks about your writing. What do you say?
Family members know better than to ask me such questions. In a previous life I worked in a genetics/molecular biology laboratory. When they asked me to explain what I did for work, I described isolating 27 Ivermectin resistance genes in Caenorhabditis elegans, a small, free-living, transparent soil nematode. They quit asking me what I did for work.
What do you consider your biggest writing-related success?
Seven of my poems were selected for the W.W. Norton anthology, Haiku in English: The First Hundred Years [Kacian, Rowland, and Burns, editors] 2013. Rae Armantrout picked one of my short-form poems as runner-up Best of Issue in R'r 10.1, 2010. My pocket guide, Life on Intertidal Rocks, Nature Study Guild/Keen Communications, published in 1987 is still in print.
Your biggest writing-related regret?
I wish I were a more prolific writer. As it is, every word counts.
Tell us one strange thing about yourself that does not involve writing.
For four years I was an EMT for a volunteer ambulance rescue squad in rural Maine.
Tell us one strange thing about yourself that does involve writing.
I'm an insomniac. I routinely wake up in the middle of the night for a couple hours. If I'm stuck on a writing piece, I get solutions during this restless period. I have to write them down, otherwise they are gone forever.
Do you have another favorite piece of writing in this MAR issue? If so, name it and tell us why.
The 35th Anniversary special section of prose poetry, short shorts, and creative flash non-fiction is full of tasty and satisfying pieces. Donna Steiner's "Sinkers" and Alan Elyshevitz's "Deep" struck a chord with me. "One of the greatest gifts you can get as a writer is to be born into an unhappy family" –Pat Conroy.
Can you show us a photo of you holding your MAR contributor's copy?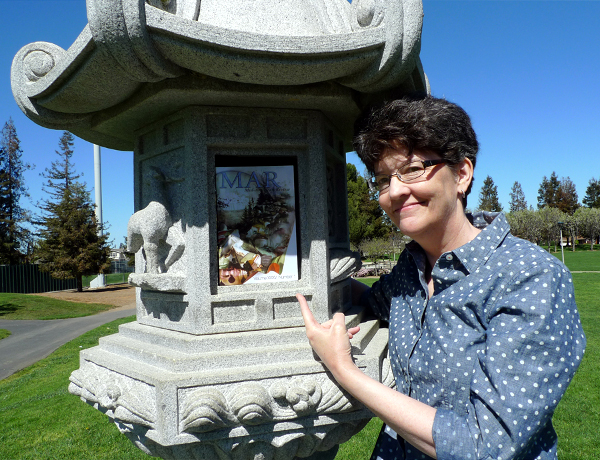 Thanks for the interview, Cherie!
Laura Maylene Walter, Fiction Editor