Our latest contributor interview focuses on obsessions, compulsions, and fabrications of the mind — not to mention deep secrets, hulking angels, and the small choices poetry is built upon. Who could ask for more?
Cynthia Marie Hoffman's poem "Open Window," appears in MAR 35.1. Shes the author of Sightseer and Paper Doll Fetus, as well as the chapbook Her Human Costume. Hoffman is a former Diane Middlebrook Poetry Fellow at the Wisconsin Institute for Creative Writing, Director's Guest at the Civitella Ranieri Foundation, and recipient of an Individual Artist Fellowship from the Wisconsin Arts Board. Her poems have appeared in Pleiades, Fence, Blackbird, diode, and elsewhere. She is also co-editor of the project book interview site The Cloudy House. Visit her online at cynthiamariehoffman.com.
Quick! Summarize your poem in 10 words or fewer.
A child sleeps peacefully despite her mother's fears.
What can you share about this piece prior to its MAR publication?
"Open Window" is the poem that arose from a list I was making of all the terrible things one could possibly be afraid of happening to a child who is otherwise safe in her bedroom at night. Some of these things came from the haunted parts of my own mind, and some of them came from an intentional desire to bring the fears into the realm of the surreal for the sake of the poem. I'm not really afraid that a giant moth is going to fly through the window and smother my child in her sleep, for example, but I think it gets my point across.
One of the things I love about writing poetry is that it allows us to use imagery and tone without always having to say outright the exact idea that lies at its core. I don't ever believe in obscuring meaning (in fact, the opposite!), but I do enjoy, and have even come to rely on, this sort of imagistic proxy when writing something deeply personal. In fact, I've found that when I've been too literal, the poems have fallen flat.
What was your reaction upon receiving your MAR acceptance?
I was thrilled that this poem had been taken for Mid-American Review, but I was especially honored that it was included in the 35th Anniversary Special Section for Prose Poetry, Short Shorts, and Flash Creative Nonfiction. The prose poem is a very commanding form for me, especially in terms of this series I'm working on now, in how well the form can simultaneously embrace the wide-open leaps and the crushing compression that are symptomatic of irrational fear. I felt the poem had found a good home.
What was the best feedback you received on this piece?

"Open Window" is part of a larger memoir of sorts about obsessions, compulsions, and fabrications of the mind. Making clear (or intentionally blurring) the difference between reality and imagination is a challenge I've had to work through in every poem in this series.
The poem contains the line "the street glimmers in the lamplight, a black river heaving a galaxy of stars." Initially, I used the name of the street I live on, Milky Way, but when I shared the draft with my poetry group, I learned that the exact name of the street was distracting (not to mention confusing).
They noted that my descriptions of fears, which lie at the core of the series I'm working on, were always non-specific. Although they are identified clearly enough to be seen (a child walks into a knife, an airplane crashes into a house), none of them included qualifiers or proper nouns. It wasn't a Wüsthof knife. It wasn't an American Airlines plane. And this, my group argued, helps signal to the reader that they are fears and not reality—they seem to exist in a separate, more dreamlike world. In the poem, it is the mother who looks upon the street and envisions it as a sort of creeping galaxy that eventually invades the child's bedroom. It might be the mother's internal reality, but it's not real reality.
So I deleted "Milky Way" and replaced it with "the street." It seemed like a picky change, but these trusted, long-time readers were able to help me see the larger patterns in my work. Before that night, I hadn't really thought about how I could control this quality of vagueness in order to signal a reader, but I've applied the formula to many of my poems since. Poetry is built on these small choices.
Tell us one strange thing about yourself that does not involve writing.
Since I was a child, I had always believed there was an angel who stood in my bedroom at night. The figure was a hulking sort of glow with heavy white wings and a white robe. I never really saw it, but the angel was a constant presence in my room in the dark, just silently standing against the closet door. He was going to lean over the bed and whisper a secret into my ear, I was sure of it. And I was terrified. Whatever the angel was going to tell me, I didn't want to hear it. So I have always slept with the covers pulled up over my ear.
Tell us one strange thing about yourself that does involve writing.
I never told anyone about the angel. But just a couple years ago, as I was writing this series of poems, I started to write about it. And the darnedest thing happened—the angel left. It was as if I had forgotten about it, after all these years as easily as can be, and I suddenly realized it just wasn't there anymore.
Poetry—or any form of writing—can be remarkably cathartic, liberating. We write things we wouldn't otherwise be able to say, and sometimes poetry can bring forth change.
But there is sort of an emptiness left behind. I suppose I miss the angel always being there as a figment of my childhood. I find myself writing about the fact that I miss him. I kind of want to know what his secret was.
Do you have another favorite piece of writing in this MAR issue? If so, name it and tell us why.
There are many I enjoyed reading, but Alan Elyshevitz' "Deep" is one that has stayed with me the longest. It sucks me into its world, especially the "plague of rain" and the ending, "something barely alive. Alive but terrified." I also really enjoyed Claire Wahmanholm's "Theory of Primogeniture: Barn," especially "You watch/ the field take you apart." I try to resist putting too much pressure on endings in my own work, but I guess I'm a sucker for that really perfect final line. And for really weird, haunting imagery, like the cocoons in Becky Hagenston's "Owls." Those cocoons! And the "Bat Belly" in Ryan Teitman's "One Hundred Names for the Moon."
Can you show us a photo of you holding your MAR contributor's copy?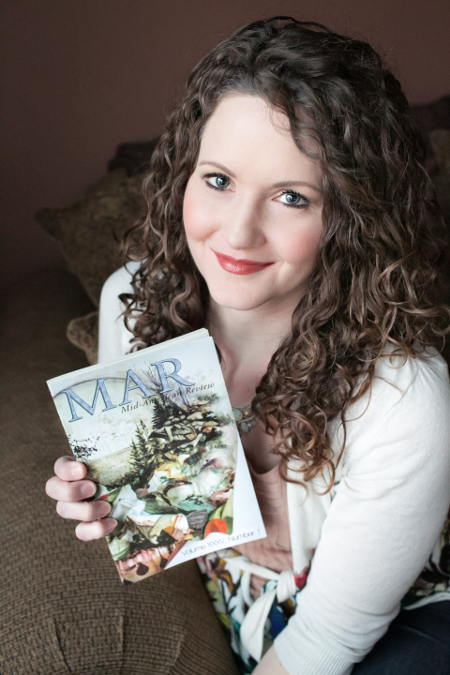 Thanks for the interview, Cynthia!
Laura Maylene Walter, Fiction Editor