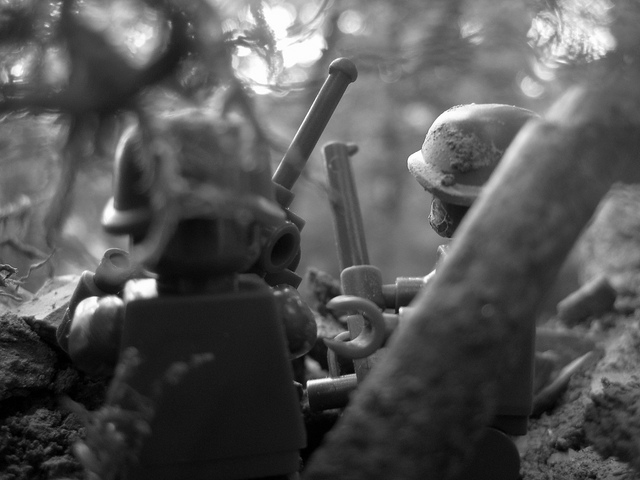 In our "Accepted" column, Mid-American Review editors discuss why they selected stories, poems, or essays for publication. In this post, Fiction Editor Laura Maylene Walter discusses a story that appears in our Spring 2014 issue.
Genre: Short fiction
Title: "War Stories"
Author: Lesley Nneka Arimah
MAR issue: Spring 2014
First line: "This time, my mother and I were fighting about what I had done at school to prove with no question that Anita Okechukwu was not wearing a bra."
"War Stories" opens with an immediately compelling conflict: the narrator, twelve-year-old Nwando, has exposed her classmate Anita not only for her lack of a bra, but also for the pretenses that allowed her to become the dictatorial leader of the school's exclusive Girl Club. Thanks to her actions, Nwando finds herself an unwitting hero and the head of a new "girl army" regime. As Nwando experiences the rise and fall of her own power at school, she listens at home as her father covers new ground in his wartime memories and reveals more than he perhaps intended.
Along with many other Mid-American Review fiction readers, I was immediately engaged by the story's premise and read on with increasing interest as Nwando's struggles at home and school escalated. The story illustrates adolescent tension in fresh and surprising ways, and author Lesley Nneka Arimah masterfully blends Nwando's schoolyard conflict with her father's recollections of his time in the war.
The language in "War Stories" is also infused with a reflective quality that expands Nwando's story into more universal territory. For example, when Anita experiences her fall from social graces after the bra incident, Nwando considers the broader consequences for her classmate: "What I hadn't expected were the boys who ran behind her during recess and lifted up her skirt, as though my actions had given them permission, as though because they had seen her bare breast, they were entitled to the rest. It was a boyish expectation most would not outgrow even after they became men."
The storytelling is also lively and takes surprising turns. Take, for instance, the scene that occurs after Nwando is punished for punching her classmate: "During dinner, which I wasn't permitted to share with my parents, I sat on a stool in the kitchen, soothing the shrapnel sting on my behind with daydreams of how upset my real parents would be when they discovered these temporary guardians had used me ill. I tried very hard not to think about the little girl and her nose, how it crackled beneath my fist." The vivid language and storytelling gain momentum throughout the story as Nwando's father begins sharing his wartime experiences.
"War Stories" is more than a gripping, beautifully told story about a young girl navigating the poisonous social structure at school and a haunted father at home – it's also about the power of the many kinds of stories we tell.
What MAR editors said about "War Stories":
"…strong and engaging…an example of well-managed realism. Touching without being sentimental and a light touch with humor. A quirk without being crazy."
"This story offers a lot in these nine pages about the pain this family has experienced with loss. It may not follow a traditional path, but I enjoyed the details of this family connecting. The emotion feels authentic, the details engage, and the flaws of people trying to be leaders to those around them – moving."
Laura Maylene Walter, Fiction Editor
Photo: legOfrenis