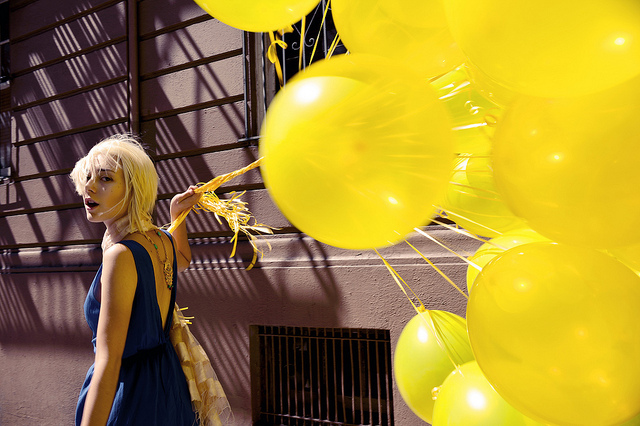 In our "Accepted" column, Mid-American Review editors discuss why they selected stories, poems, or essays for publication. In this post, Managing Editor Sasha Khalifeh discusses a story that appears in our Spring 2014 issue.
Genre: Fiction
Title: "Tracking the "Choose Life" Balloons: Our Findings Thus Far"
Author: Brian Costello
MAR Issue: Vol. XXXIV, Number 2 (Spring 2014)
First line: "On the afternoon of March 14th, 1983, 322 students of St. Sebastian Catholic School in Peoria, Illinois gathered in the parking lot between their school and their church and released 314 primary-colored balloons into the gray late-winter sky."
An unexpected ode to music and Midwestern life, "Tracking the "Choose Life" Balloons: Our Findings Thus Far" begins with a quirky and attention-grabbing premise, a Catholic school balloon release, and transitions into an enchanting portrait of the Midwest. As the piece progresses, the reader is thrown into the lives of well over a dozen characters, from Catholic schoolchildren to heartbroken adolescents to the front-men of rock bands. The result is a richly-imagined and captivating piece that balances humor, history, and music, all against the backdrop of 1980s Illinois.
The story was a hit with our fiction staff, resulting in a rare unanimous vote for acceptance. The MAR editors were immediately drawn in by the story's unique premise, but that engagement quickly progressed to an appreciation for author Brian Costello's neat prose and an investment in his succinctly-developed characters. Like the lines of the songs that permeate the story, each section of the story is sharp and strong, but woven together the overall effect is greater than the sum of its parts—a piece both memorable and compelling.
One of the greatest strengths of the story is its language: Costello's prose deftly navigates a range of emotions—joy, heartbreak, nostalgia, loss, passion—without ever becoming weighed down by sentimentality or losing sight of its distinct voice. A balloon drifting past a high school senior fantasizing about spending the night with his girlfriend becomes a simple but profound moment of reflection: "As Porterfield watched the balloon land and the song moved into the chorus, there was something about the scene that made him swell with, maybe not pride, but the feeling that you're exactly where you want to be—Peoria, the Midwest, the '80s—and it doesn't get much better, does it?"
At the same time, a teenage girl giving her first haircut to her punk-rock boyfriend begins her career as a hairstylist even as she ends her relationship: "As the song "Party with Me Punker" played, Oberkfell felt a confidence and self-assurance in her work that she had never felt before.…at that moment [she] correctly surmised that her relationship with Richie Asshole would be short-lived, but to the present day, Oberkfell is an in-demand stylist throughout the Detroit suburbs."
Costello's piece, though only a few pages long, is brimming with stories spanning age, place, and gender, all of them framed by an unforgettable premise. Through his prose, readers are immersed in a different world, one permeated by music and memory—a world that one is happy to inhabit, if only for a little while.
What MAR editors said about "Tracking the 'Choose Life' Balloons: Our Findings Thus Far":
"…a combination of deadpan humor and clean prose…a sense of a clear narrative that follows inevitably from the release of the balloons."
"The tone and concept are engaging…and then it turns out that the whole story is about something completely different than what you thought it would be."
Sasha Khalifeh, Managing Editor
Photo: Chi-Chi Chuang