Last week you met some adorable cats, and this week MAR brings you a new pet–a bearded dragon, owned by the great Lisa Favicchia.
Lisa Favicchia is the Managing Editor of Mid-American Review and a second-year MFA candidate in poetry at Bowling Green State University. When she is not reading or writing, she is busy pampering the dragon whom she affectionately calls Smauggles (much to his chagrin).
And now, meet Smaug!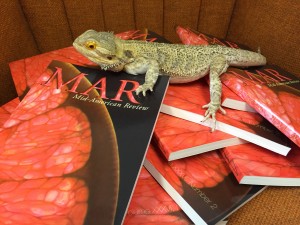 Smaug is a bearded dragon and
Mid-American Review's
honorary Office Lizard. While his ancestors came from the harsh deserts of Australia, Smaug prefers spending his days in air conditioning with the
Mid-American Review
staff, preferably sitting on somebody's shoulder or keeping a close eye on office proceedings from his perch on the back of his owner's chair. He enjoys digging around in office mail, licking things, and running circles around laptops. He has been very graciously received not only by the staff members of
Mid-American Review,
but by the BGSU community as a whole, much to the joy of his owner who loves to bring him everywhere she goes.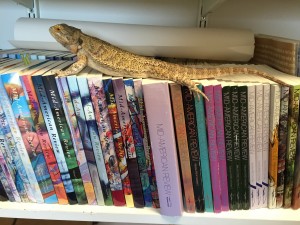 Smaug has come a long way since his days as a starved, abused, and abandoned baby dragon to the illustrious Office Lizard you see before you today. His memoirs relating the tales of his difficult childhood and his struggle up the corporate ladder are forthcoming.